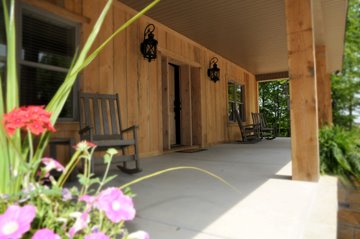 This Tennessee hunting adventure offers the Southeast's oldest and largest hunting lodge providing premier Wild Boar Hunting as well as Ram, Goat, Deer, Elk, Buffalo, and Red Stag! This lodge is located in ideal hunting, but easily accessible, area of the Cumberland Mountains of Tennessee, with several thousand acres of the finest hunting territory available!
About Wild Boar
Once living only in the forests of Europe, the wild boar was introduced into Tennessee in 1912 by wealthy English sportsmen, found the hills and hollows to his liking and grew even fiercer, as he multiplied in the mountains. Fast and dangerous, he sports razor-sharp tusks and hulking shoulders to back up his short and cunning charges. A foe worthy of any huntsman's steel. Now a mixture of both the Russian Wild Boar and the famed southern "razorback," he has, if anything, gained a more savage temper – YOU'LL BE PROUD OF YOUR TROPHY BOAR!
All Hunt prices include your animal suitable for mounting, license, kill tag, food, lodging (two days and nights), guides, dogs, and jeep transportation.
DAY HUNT SPECIAL: No food or lodging on day hunts
TROPHY WILD BOAR- $925
Day Hunt- $800
You may add extra hogs to your hunt for $800 per hog
RAM– BABIROUSSA, BLACK HAWAIIAN, or CORSICAN $975
Day Hunt $850
TEXAS DALL- $975
Day Hunt $850
DEER– FALLOW, AXIS,  $3000
Day Hunt $2875
SIKA DEER– $3,500
Day Hunt $3,375
ANGORA GOAT- $950
Day Hunt $825
ELK
from $5000+
BUFFALO
from $3000+
RED STAG
from $6000+
Tennessee Sales Tax (9.75%) will be applied to all hunts.
AFTER A SUCCESSFUL HARVEST — Your kill is field dressed and hauled from the woods to our walk-in cooler by your professional guide. Meat processing and taxidermy service is available for your convenience at an additional fee.
Additional Information
1.) 500 square inches of blaze orange clothing is recommended.
2.) Kills are usually made at short range due to thick brush and heavy cover.
3.) Methods of hunting are: stalking, ground, stands, chasing with dogs, etc.
4.) We do have Sunday Hunts.
5.) Guests are welcome to fish at small private lakes, stocked with Bluegill and Bass, at no charge.
6.) Meat processing and taxidermist services are available.
7.) We serve two (breakfast and lunch) "Tennessee" home-cooked, all-you-can-eat meals per day.
8.) We are located 80 miles west of Knoxville, 90 miles north of Chattanooga, and 100 miles east of Nashville.
9.) A 50% deposit is required per hunter and will not be refunded and is non-transferable.
10.) Rifle and archery ranges available.
11.) Non-hunter rates are $75.00 per day for food and lodging. Hunters with no kill or photographers are $125.00 per day for food and lodging, guide and jeep.
12.) Non-lodging hunters and companions who hunt and make no kill is $75.00 per day.
13.) Suggested guns: 30-30, 30-06, 308, 270 and 44 Magnum, shotgun with rifle slugs, bows and muzzle loaders.
14.) Archery hunters welcome…Traditional, Recurve, Compound and Crossbow.
15.) All hunters must sign liability release at check-in.
16.) Our antique gun collection is on display for your enjoyment.
17.) Season open year-round.
18.) Guides will provide field dressing and transport to our walk-in cooler.
19.) Video cameras permitted in lodge area only. Not permitted on hunts.
20.) The Southeast's oldest and largest, family owned hunting lodge.
21.) There is a pavilion with grill available for your use.
22.) R.V. parking with electric and water hook-ups available. Space is limited.