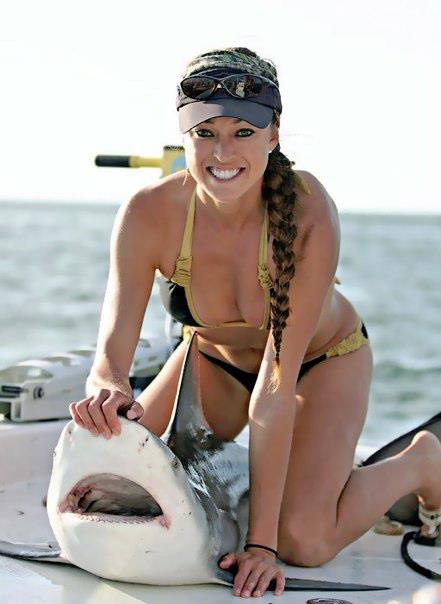 Come wet a line & pull some drag with Capt. Bo Johnson (seasoned charter captain, decorated tournament angler & TV show talent) and his First Mate Deidra (industry spokes model, TV show talent, and avid angler). We can't wait to show you our amazing fishing in SW FL and one heck of a good time!!
Take a ride on a 24′ BlueWave boat for inshore/nearshore fishing for adrenaline packed tarpon, shark, and goliath grouper action, as well as family friendly backcountry fishin' for redfish, seatrout & snook. For offshore trips, take a ride in a 28′ Parker for a variety of grouper & snapper species.
TROPHY FISHING!! Snook, Tarpon, Goliath Grouper, Kingfish, Amberjack, Grouper, Snapper, Redfish, Sea Trout, Ladyfish, Pompano, Barracuda, Mackerel, Jacks, Permit, Cobia, Triple Tail, and Sharks (black tip, lemon, bull, hammerhead, and sand tiger)
LOCATION = Southwest Florida (Pine Island Sound)
Clients choose among the following adventures at sea = * Sharkin' *Goliath Grouper Tug-o-War * Fishin' the FLATS * Tarpon the Silver King * Backcountry Scenery * Corporate Retreat at Sea
---
Florida Bowfishing
Florida Bowfishing takes place in Pine Island Sound, Charlotte Harbor, and off the barrier islands (Boca Grande, Cayo Costa, Sanibel, N. Captiva and Captiva Islands) all located in beautiful Southwest Florida.
We target various species of sting rays, mullet, sheepshead, and black drum.
Our bowfishing equipment is top of the line thanks to PSE bowfishing bows & Muzzy bowfishing arrows and reels.
$400 up to 4 people for 4 hours
$100 per additional hours
Florida Bowfishing/ Fishing Combo- Shoot your bait and then go wrangle some Goliath Grouper or Sharks!
$500– 4 hrs     $700– 6 hrs     $900– 8 hrs        
---
Sharkin'
When people think of sharks, they picture "JAWS". When WE picture sharks, we picture you with a trophy of a lifetime! Sharks are one of the few species that have not changed much from the prehistoric days.  We give everyone the opportunity to go to battle against these "top of the food chain" predators!  You can target the Great Hammerhead shark (a fish that weighs over 1,000 pounds), the man eating Bull shark, the Lemon shark, and the acrobatic Black Tip Shark.
Any of these sharks will give you a thrill of a lifetime!  We fish in the shallow, pristine waters of Pine Island Sound near Ft. Myers, Sanibel Island, Captiva Island, and Boca Grande Pass.
Best Months:
Pine Island (SW FL) = MAR-OCT
Price: $500-$1200  *Depends on # of people, length of trip, and month of year
---
Goliath Grouper
This excursion is the ultimate adrenaline rush of the fishing world.  We fish from inshore to 20 miles off shore. Either by rod or if you really want to test your game you can go one on one with just a rope and your hands. You pick it and we stick it…and YOU pull!!!
These fish are between 100-800 pounds!
Best Months: Year round!!
Price: $500-$1,500  *Depends on # of people, length of trip, and month of year
---
Tarpon

The only thing more exciting than stalking fish on the flats is stalking fish that are 7 plus feet in length and weighing up to 225 lbs.  Here on the flats these fish can be found in less than 3 feet of water.
Tarpon will start showing up anywhere from mid March to April, depending on the cold fronts.  This is the time when thousands of fish make their way from the south as they come up to the spawning grounds, taking place mid May and June, both on new and full moons and during high tides.  At these times, these fish can be caught by fly or the primary bait (pass crabs) that flush out on out-going tide with the tarpon.
Best Months: March- October
Price: $500-$1200  *Depends on # of people, length of trip, and month of year
---
Fishin the Flats
The backcountry of SW Florida is world-renowned for is sight fishing.  Here, anglers will combine their hunting and fishing skills as there is nothing better than presenting artificial bait, whether it's a fly, spoon, jig, or plastic.  There is no greater thrill than sneaking up on a tailing redfish, the elusive snook, or sea trout.  Near shore, permit, cobia, and tripletail inhabit the trap lines.
Best Months: Year round
Price:  $500-$1200  *Depends on # of people, length of trip, and month of year
---
Offshore Fishing
Target a variety of offshore species such as: red grouper, gag grouper, black grouper, mangrove snapper, mutton snapper, American red snapper, lane snapper, porgy, triggerfish, kingfish, and a possibility for cobia, amberjacks, barracuda, and sharks off the wrecks.
$950   3/4 Day 6hr trip
$1300 Full Day 8hr trip
Price is for the vessel. Anglers can split the cost. Maximum number of anglers is (6). However if larger parties are interested, we can get multiple offshore vessels and captains together.
**A 50% non-refundable deposit is required to book your trip. Your balance is due upon arrival.