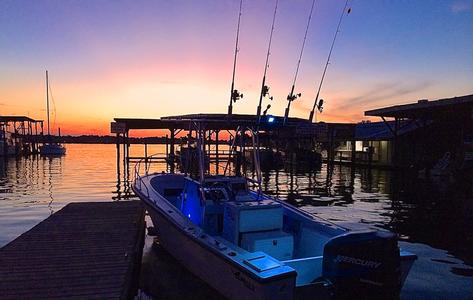 Get ready for the adventure of a lifetime! Come along with us on a journey on the Crystal River of Central Florida, where we will introduce you to the most exciting sport on the water today, Florida BOWFISHING! It is one of the most addictive forms of fishing and the adrenaline rush is comparable to none. No experience is necessary and all equipment is provided. We also offer the use of a spear or gig for those interested in spearing fish by hand. You are always welcome to bring your bowfishing equipment onboard. In addition to our exciting bowfishing trips, we also offer Alligator Hunts and Shark Fishing trips.
---
Florida Bowfishing Trips
*All bowfishing rates are for 4 hours of shooting time, up to 3 Shooters at once.
Additional shooters can be added for an additional $50 each and can rotate out on the shooting platform (Up to 5 shooters total). Additional hours can be purchased at a rate of $95 per hour.  Your adventure includes all necessary equipment, snacks and beverages. No Fishing License Required. 10% single shooter discount.
Bowfishing- $450
Our nighttime Bowfishing Adventure is our most popular charter due to the amazing scenery and non-stop action. Follow along through the Florida Jungle and backwater creeks while we shoot at Mullet, Spotted Gar, Long Nose Gar, Sting Rays, and many other non game species.
Florida Bowfishing / Shark Fishing Combo- $550  (APRIL – OCTOBER )
SHOOT YOUR BAIT…..CATCH YOUR SHARK!
Trip includes 3 hours of shooting time and 3 hours of Rod and Reel shark fishing. 6 hours total.
SHARK Fishing – (April 1st – October 31st)
Half Day (5 hours) $550       3/4 Day (7 Hours) $700     Full Day (9 Hours) $850
Night Trips- 6 Hour Charters Only – $600
---
Gator Hunts
Get ready for the hunt of a lifetime! We cater our gator hunts to a variety of skill levels and size requests. Our year round hunts take place on vast areas of Private Land throughout the state, and we have the ability to not only offer our clients day and night hunts, but we can also use a variety of weapons including rifle (during daylight), crossbow, bow and harpoon.
For our resident tag holders, we also offer a nightly charter service to help you fill your tags during the Public Water Gator Season ($700 for 10PM – 6AM).
Our private land hunts can be done Day or Night, year round, with any weapon.
Rifle Hunts can only be done during the day. Pricing is as follows
Flat Rate up to 9 Feet $1800
9.1 – 10  Feet $2300
10.1 – 11  Feet $2800
11.1 – 12  Feet $3300
12.1 – 13  Feet $3800
For our resident tag holders, we also offer a nightly charter service to help you fill your tags during the Public Water Gator Season ($700 for 10PM – 6AM).
For hunters who need their meat and hides shipped to them additional charges will apply.
FLORIDA PREDATOR COMBO – $3,500 Shark and Alligator – 2 DAY TRIP
Are you interested in catching a Shark AND an Alligator on rod and reel in the same vacation? Price includes one full day or night of shark fishing and 1 Alligator up to 10 Feet. Sharks will be caught in Yankeetown Florida. Alligators will be caught in South Florida.
**A 50% non-refundable deposit is required to book your trip. Your balance is due upon arrival.